Dr. Michael G. Martin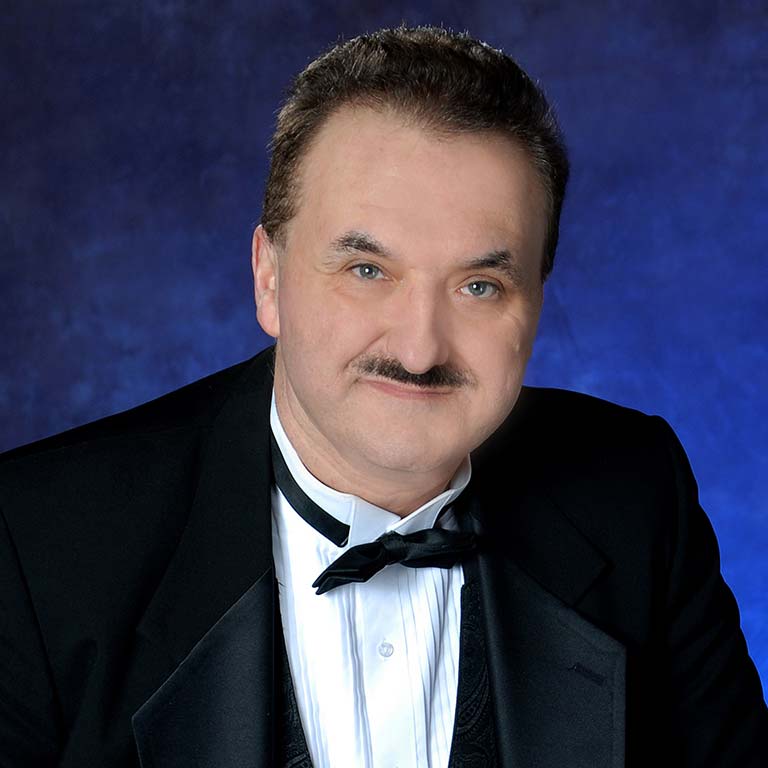 Currently the Director of Choral Activities at Hilliard Darby High School, Director of Music – New Albany Methodist, founding conductor of Una Voce- The Michael Martin Chorale and newly-appointed conductor of the New Albany Symphony Chorus.
As former assistant conductor and accompanist of The Ohio State University Men's Glee Club, Dr. Martin's passion continued to grow deeper and resulted in the development of numerous choral groups within the educational and community environment.  After writing his first major work, a Christmas cantata at the age of 17, Dr. Martin pursued a college career at The Ohio State University, earning a Bachelors, Masters and Doctor of Musical Arts Degrees in education and choral music.  He has studied with Craig Jessop, Robert J. Ward, Russel Mikkelson, Marshall Haddock, James Gallagher, Hilary Apfelstadt and Maurice Casey, and the late Robert Shaw.
While at Ohio State, Dr. Martin had the opportunity to study with and served as accompanist for Robert Shaw, as well as an invitation to study at the Robert Shaw Choral Festival Chorus in France in 1994.  He has performed and conducted major concerts throughout Germany, Switzerland, Austria, England, Ireland, Italy and France and performed on the BBC network.  Dr. Martin has conducted the Hilliard Darby Symphonic Choir on tours of Great Brittan and the United States, which included performances at St. Paul's Cathedral and Carnegie Hall, New York for a performance of Durufle's Requiem.  The choir was invited by Dr. Craig Jessop to sing at The Kennedy Center for the Performing Arts, Washington D.C. for the National High School Memorial Day Choral Festival in 2011 and was conductor in residence in the fall of 2015 for a performance of John Rutter's "Mass of the Children."  Martin recently prepared Una Voce for Dr. Jessop for a Carnegie Hall performance of "Dona Nobis Pacem,"by Vaughan Williams in February 2019.
Darby Symphonic Choir has performed for several ACDA Conventions and countless OMEA Conventions during the school's history.  The choral groups at Hilliard Darby have consistently received superior ratings at district and state level OMEA events and have been ranked as one of the top 5 choral programs in the country.
In addition, Dr. Martin performed and conducted his own arrangements for men's voices with the OSU Men's Glee Club of such notable works as Sir Andrew Lloyd Webber's "The Phantom of the Opera", and Stephen Sondheim's "Send in the Clowns", two of many arrangements included on the group's recordings.  His compositions are published with Alliance Music, Houston, Texas, Lawson Gould and he is also a writer and arranger for Alfred Publications, Miami, Florida. Some of his compositions and arrangements include, include When I Hear Music (SATB, TTBB, SSAA) Requiem Aeternam SATB with orchestra, Symphony of Love, Not While I'm Around (TTBB), What a Friend, So Dearly Loved, both SATB and orchestra and Land of Our Birth (TTBB and chamber orchestra).
He has prepared choirs for notable conductors such as Mr. Robert Shaw, Dr. Eph Ely, Dr. Craig Jessop, Dr. Ann Howard Jones, Dr. Donald Neuen and composer/conductor Eric Whitacre. Dr. Martin has also shared a concert with The Concordia Choir – Dr. Rene Clausen, conductor.
Dr. Martin's career has spanned many facets, both in and out of the classroom.  As a graduate teaching assistant and adjunct professor at The Ohio State University, Dr. Martin served as conductor of University Chorus, Symphonic Choir, Chorale and Men's Glee Club, as well as instructor for undergraduate vocal pedagogy courses and conducting classes. Dr. Martin's civic responsibility has involved his creativity in arranging and conducting choirs and orchestras for national, televised broadcasts and weekly worship services with the community.
He currently serves as Director of Music for New Albany Methodist Church and is called upon as clinician and commissioned composer for various honor choirs and festivals throughout the Great Lakes region.  Dr. Martin resides in Dublin, Ohio with his wife and son.
New Albany Symphony Chorus
Comprised of over 65 auditioned voices, the New Albany Symphony Chorus (NASC) is an all-volunteer ensemble led by Dr. Michael G. Martin. The Chorus will make its community debut this season with Mahler's 2nd Symphony on October 6th at 3:00 p.m.
The Chorus includes members of the New Albany community and surrounding suburbs, with ages spanning from high-school through retirement.