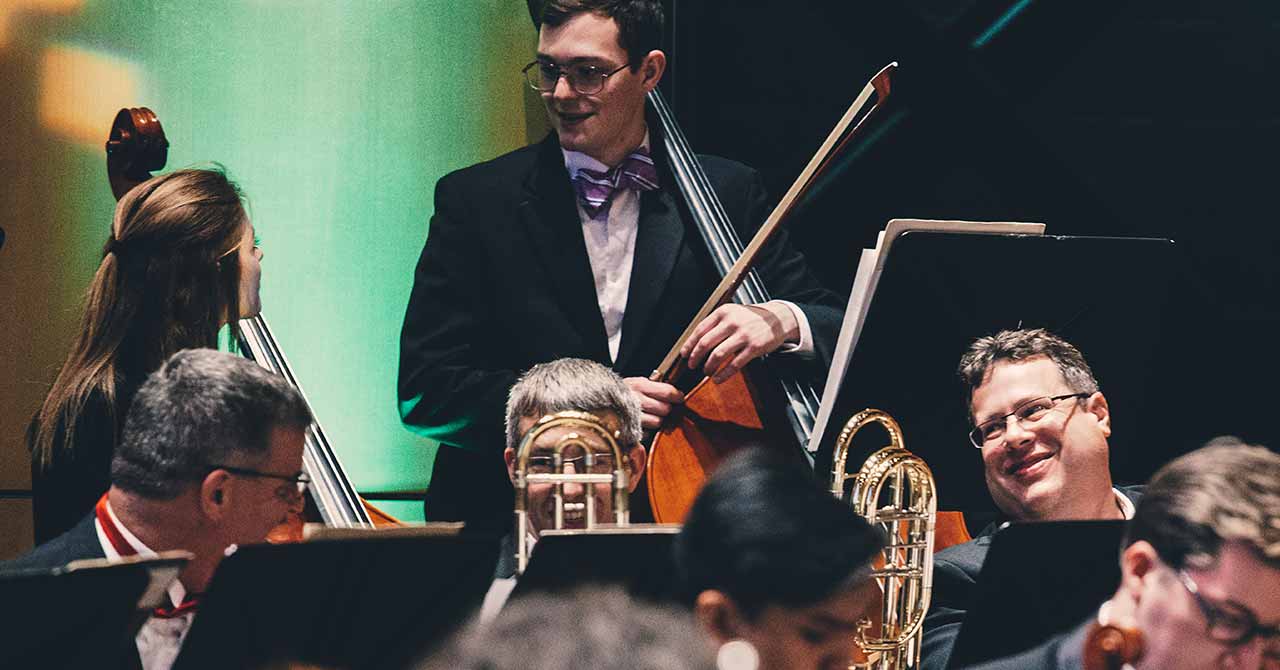 Do You Sell Subscriptions?
Yes. Buying a subscription (or "season ticket") is the least expensive way to purchase tickets, plus subscribers receive the best seats and can keep their seats from one season to the next. Subscriptions for our 2021-2022 season will go on sale soon. Please follow us on Facebook or join our mailing list for the most up-to-date information. Patrons needing assistance from the box office staff before purchasing a subscription can email Tickets@CBUSArts.com. Telephone assistance is not currently available. Subscriptions incur only a $5 fee for the entire transaction.
How do I buy tickets for just one concert?
Single concert tickets go on sale August 1 for the current season and can be purchased online from the link on each concert page subject to availability. You can also visit CBUSArts.com and search for New Albany Symphony or email Tickets@CBUSArts.com for assistance.  Subject to availability, tickets will be sold at the door beginning two hours prior to showtime, subject to availability. Ticket fees vary by the method of purchase. See below for details.
When is the CAPA Ticket Center open?
Currently the Ticket Center is closed. You can reach them by emailing Tickets@CBUSArts.com.
Day of Show: tickets may be available at the McCoy Box Office two hours prior to the concert
Where is the CAPA Box Office?
The CAPA Box Office is closed due to COVID-19.
39 East State Street, Columbus, OH 43215 (next to the Ohio Theatre)
Do you offer a group discount?
Not for our 2020-2021 season, but we will resume group sales as soon as conditions permit. Please see our  Group Tickets for additional details.
What are the ticket fees?
Ticketing for NASO concerts is handled by the CAPA box office. Previously, CAPA used Ticketmaster for online ticketing. Effective January 1, 2020, CAPA is using Tessitura, which means significant savings for online ticket purchases. As always, how you buy your ticket makes a difference in how much the seat costs. The following is a breakdown of fees depending on how you choose to buy your NASO tickets.
CBUSArts.com – Fees on through CBUSArts.com are 17% of the ticket price. For two $25 tickets, the fee will be $8.50. With Ticketmaster, the order fee and service fee would have been $19.25 for the same tickets. This is a 56% savings in fees! Season tickets cannot be purchased through CBUSArts.com, only single concert tickets.
CAPA by phone – CAPA fees for season tickets ordered by phone are $5 per order (not per ticket), including mailing and Will Call services. Single ticket fees purchased by phone are $2.00 per ticket for tickets $24.99 and below and $4 per ticket for tickets $25.00 and above.  This fee includes mailing and Will Call services.
CAPA Box Office Downtown – Season and single concert ticket purchases made in person at the CAPA Box Office incur no fees. The CAPA Box Office in downtown Columbus is located at 39 E. State Street, Columbus, OH 43215. Hours of operation are Monday-Friday: 9 am – 5 pm, Saturday 10 am – 2 pm.
CAPA Box Office at the McCoy Center – Season and single concert tickets purchased at the McCoy Box Office incur no additional charges; however, the Box Office is only open the day of the performance two hours prior to the beginning of the show. Additionally, there is a $2 price per ticket increase on tickets sold the day of the concert through this box office. The CAPA Box Office at the McCoy is located at 100 W. Dublin-Granville Rd., New Albany, OH 43054.