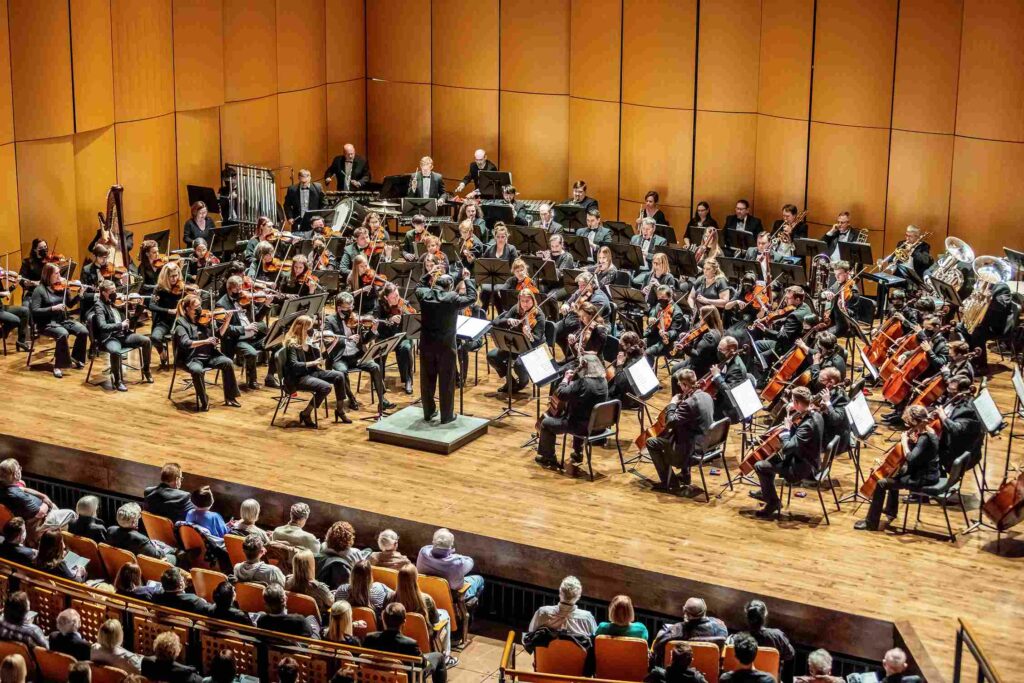 The New Albany Symphony Orchestra (NASO) is a community orchestra comprised of over 120 community, student, and professional musicians from all over the Columbus metro area who come together four times a year to present concerts from the professional classical repertoire in the beautiful Jeanne B. McCoy Community Center for the Arts in the heart of New Albany.
NASO was designed by its founders to be a true community orchestra, in which students are mentored by professional musicians, talented community musicians have a stage on which to perform, and professional musicians have an additional outlet for their craft.
Founded in 2007 by New Albany resident and violist Heather Garner and founding conductor Luis Biava, the New Albany Symphony Orchestra is proud to serve the community for more than a decade.
A strong component of the New Albany Symphony Orchestra's mission is music education, and our commitment to even the youngest student musician in the orchestra is that he or she will perform on at least one piece per concert. The orchestra offers free master classes, a sensory-friendly series for our friends in the autism and dementia/Alzheimer's communities, and a student concerto competition, in which talented young people from all over the state compete to win the opportunity to perform a concerto on stage in front of a live audience. Additionally, the orchestra collaborates with many area arts organizations and schools. Ticket prices are kept low – even offering free tickets to our underserved partners – to ensure that the art of classical music remains accessible to the people of New Albany and our surrounding areas.
Benefits Of A Community Orchestra
Audience Connection:  Seeing familiar faces on stage breaks the "high brow" barrier associated with going to the symphony.
Programming designed for the community: Through competitions, NASO will give local composers the opportunity to compose for the Symphony and student musicians the opportunity to appear as soloists.  We can program music to supplement the curriculum in the New Albany schools and consider requests from the community. We often feature guest artists with ties to Columbus.
Valuable experiences for young musicians:  Sitting next to seasoned players in a formal orchestra setting is a prestigious and invaluable learning experience.
Semi-professional level of performance:  A community orchestra provides adults who enjoy music as a hobby the opportunity to perform.
​The New Albany Symphony Orchestra has a modest annual budget, funded by government grants, corporate sponsorships, private donations, and ticket sales. Thank you for your continued support of our efforts!